Health
Cornea Transplantation Project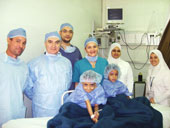 In response to the United Nations support to the Vision 2020: the Right to Sight, Global Telecom Holding partnered with the World Health Organization, the French Embassy, the French
Cultural Center, KASR AL AINI Hospital and other local NGOs to conduct cornea transplantation surgical operations for needy children. VISION 2020 is the global initiative for the elimination of avoidable blindness, launched jointly by the World Health Organization (WHO) and the International Agency for the Prevention of Blindness (IAPB) with an international membership of NGOs, professional associations, eye care institutions and corporations. VISION 2020 member organizations are working together to eliminate avoidable blindness, to give everyone in the world the Right to Sight.

The successful surgical operations took place at KASR AL AINI hospital by professional French ophthalmologists, Pr. Jean Louis Dufier and Dr. C. Orassud in addition to a team from KASR AL AINI Faculty of Medicine.
Polio Disease Project
WHO called for full eradication of Polio disease from the world and assigned the Rotary International Board of Directors and the Rotary Foundation to implement new tailored approaches to reach all children in 2007 in the remaining endemic pockets of Nigeria, India, Pakistan and Afghanistan.

Global Telecom and Mobilink (Global Telecom Subsidiary in Pakistan) donated USD 200,000 to help in the complete eradication of polio disease in the world.

Among the tailored 2007 approach in endemic areas are: large scale supplementary immunization campaigns every four weeks; special attention on infants and very young children, including tracking of newborn children; increased focus on high risk areas; increased engagement of religious leaders and Quranic schools to promote introduction of immunization Plus Days (IPD); specific polio campaigns to target mobile populations; and mapped population movements, vaccination posts at key nomadic gathering posts and border crossings.

This joint programme between GT in Egypt and Mobilink in Pakistan is one example of the companys CR approach in social investment which tries to establish linkages and opportunities of joint projects to accelerate impact and produce fast results especially in an important area such as eradicating Polio a disease which is still prevalent in a few countries.

UNICEF has also collaborated with Mobilink in 2008 through the organization of a series of cluster launches in the South region for fighting polio disease. The four launches which took place in were in:
Hepatitis B Awareness Campaign
The Egyptian Ministry of Health the National Committee for Control of Viral Hepatitis with support of USAID and the Communication for Healthy Living Project, supported by Global Telecom Holding among other private sector companies implemented a Summer Awareness Program during the summer of 2008, under the slogan of "Sehetak Tharwetak". The program aimed at raising the Knowledge and awareness of the general public towards
- Preventing the spread of viral hepatitis in Egypt,
- Safe injection practices
- Immunization programs highlighting HAV, and HBV vaccination
- Healthy lifestyles, and proper nutrition and sports
Location District/Zone
2 Chuck Nawabshah
hadar pur Jacobabad/Larkana
horo naro Khipro/Mirpurkhas
ungle Dero Larkana


Round the Globe HIV/AIDS Campaign on Bicycle

The project supported a team of enthusiastic & adventurous youths from Bangladesh who has set off for a world tour on bicycle as an advocacy campaign on HIV/AIDS. The youths in Bangladesh chose to do this tour using a bicycle in order to connect with a large scale of people. Riding on a bicycle provided them access with a large number of people on & off the road. It also allowed access to remote areas since most of the rural areas are inaccessible to automatic/large vehicles. Access to the remotest areas allowed for larger dissemination of campaign messages and better communication with the locals. Bikes were also seen as most convenient when it comes to parking or making stopovers. Many unplanned stops were organized and were most feasible using bikes.

The awareness campaign focused on:
- Delivering awareness messages to the regional and community based people
- Delivering brief campaign lectures/programs and sharing information, ideas & thoughts with youths, students at educational institutes, social clubs or organizations
- Communicating with affected people as well as healthcare professionals at Hospitals & Rehabilitation Centers and collect information on practical scenarios to enhance our campaign resources.
The campaign also included some media compilation through photography & video, the purpose of which was for:
- Documenting the social & emotional impact of this epidemic.
- Illuminating the positive human responses
- Identifying & addressing the underlying drivers of the epidemic, i.e. regional socio-economic and socio-cultural dynamics that create gender inequality, social stigma and discrimination against AIDS victims resulting in situations of vulnerability for them.
- Addressing Challenges, prejudice & myths surrounding this epidemic.
- Interviewing people living with HIV/AIDS to highlight & focus at least some actual human faces and their lives on top of the statistics behind the disease.
The campaign also allowed for an opportunity for networking with peers and reaching out & exchanging ideas & sharing information with regional people working on the campaign and others regarding information about HIV/AIDS and its prevention.