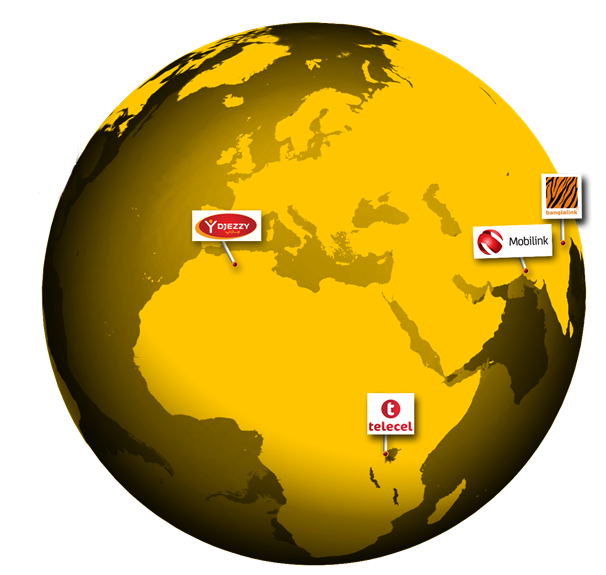 Global Telecom Holding, or GTH, is a leading international telecommunications company operating mobile networks in Africa and Asia. GTH operates mobile networks in Algeria (Djezzy), Pakistan (Jazz), Bangladesh (Banglalink), holding a leading market share in all three markets, with its total number of customers exceeding 100 million in 2018.
Global Telecom Holding is majority-owned by the VEON Group, one of the world's largest mobile telecommunications provider by number of customers and is traded on the Egyptian Stock Exchange under the symbol (GTH.CA).
Business Units Overview
Algeria
GTH's Algerian subsidiary, Optimum Telecom Algerie S.p.A (Djezzy), was granted a license to provide GSM telecommunications services in Algeria in July 2001 and Djezzy was officially launched in February 2002 to become a key player in the market, holding the second-largest market share in the country as of year-end 2018. Djezzy provides its more than 15 million customers with a range of prepaid and postpaid voice, data and multimedia telecommunications services.

For more information: www.djezzygsm.com
Pakistan
GTH's Pakistan-based subsidiary, Pakistan Mobile Communications Ltd (Mobilink or PMCL) was launched in 1994 with GTH gaining managerial control of the company in April 2001.
Mobilink is the leading mobile network in Pakistan and provides a range of prepaid and postpaid voice and data telecommunication services to both individual and corporate customers. Mobilink's network is the most extensive in Pakistan and operates the most extensive retail channel in the country.
On July 1, 2016, PMCL completed a merger with Warid and Mobilink was rebranded as Jazz the following year. Jazz is currently ranked first in Pakistan by market share with more than 50 million customers.
Jazz currently offers microfinancing through Pakistan's largest digital bank, Mobilink Microfinance Bank. Launched in 2012, the bank combines traditional microfinance with innovative mobile/digital banking technologies. Mobilink Microfinance Bank currently relies on a network of more than 60 branches and 70,000 branchless banking agents


For more information: www.jazz.com.pk or www.mobilinkbank.com
Bangladesh
GTH's operation in Bangladesh, Banglalink, is one of the fastest growing operators with a strong focus on increasing share value.
In September 2004, GTH purchased 100% of Sheba Telecom (Pvt.) Limited in Bangladesh. GTH re-branded and launched its services as "Banglalink" in February 2005. GTH quickly developed Banglalink into a leader in the mobile sector by rapidly expanding its mobile network to provide high quality communications services at affordable prices. Banglalink is currently the third largest operator in the country, serving more than 30 million customers.
For more information: www.banglalinkgsm.com